Australia 2009
Intro
Apologies for writing this in English – though I haven't really a good command of this language. But since it is the only language that nearly all my friend can read I've decided to use it. All pictures in this report – and a few more are stored in a my Australia photos album.
The primary reason to go to Oz was a meeting of ICANN in Sydney. I was appointed by W3C to the 2009 ICANN Nominating Committee. My wife Edith who is also a shareholder of my company ict-Media GmbH participated in the ICANN meeting to learn more about the business. I also used the opportunity to visit some friends from W3C. Beside of this it was a great opportunity to visit the country.
A short stop in Singapore
The trip started on July 18th. The flight from Frankfurt arrived on July 19th in Singapore and left us some 6 hours till the departure of the connecting flight to Sydney. 6 hours on the airport? From the girl at the info desk I learned that it was only a short trip to the city and that there was a free bus shuttle bus to the center. So we used the opportunity for an excursion to Singapore city – close to the Equator. The weather was hot and we were tired ... but it was nice to stroll through the city. And later on the flight to Sydney it was easier to find some sleep.
Sydney
We arrived in Sydney Saturday morning, June 20th, winter in Sydney – it looked very much like the summer we left behind in Germany: pouring and ~15°C. But this changed on Sunday when the sun was shining and we took the opportunity for a walk through the Sydney Royal Botanic Gardens & Domain.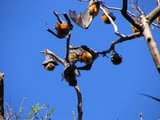 From there we went on to the Sydney Opera House and participated in a guided tour. From there we continued via Sydney Harbour Bridge and the Rocks back to our hotel in George Street.
Beside this first excursion the conference left time to go to the newly built quarter of darling harbour, to visit Bondi Beach, take a look from Sydney Tower and – on the very last day – take ferry through the harbour.
Beside the touristic activities and the the conference a few more personal things can be noted:
There was this friendly taxi driver: when I payed him I messed up my purses with the different currencies and left one in his car at the end ... he returned it to the hotel and didn't accept any compensation.
I lost a tooth at the Sensational Smile Dentistry. Can you imagine a dentistry where the receptionist, the assistant and the doctor are all the same person practicing on ~30m

2

, 24/7 on call? Thank you Doctor Nuhal Kamil! You helped me a lot and did a great job!
My colleague Ole Jacobson organized a demo of the organ at St Mary's Cathedral. An entertaining and educating event. Thanks Ole!
Canberra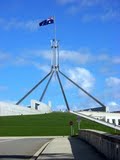 We left Sydney on Monday, June 29th in the afternoon for a short flight to Canberra. Since I had a meeting at CSIRO we stayed at the at the University House on the Campus. When we went downtown to have dinner in the evening it was a huge contrast to Sydney: the city appeared to be dead. Nobody on the streets, only a few restaurants – most of the where closed.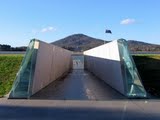 The next day after my meeting I had the opportunity to walk through Canberra at daytime. A strange place! The artificial lake Burley Griffin. Somebody must have told them that symmetry is heaven. There is an axis from the parliament to Mount Ainslie (on the other side of the lake). Everything around this axis is arranged in perfect symmetry.
My friend Amit Parashar who lives in Canberra tried to convince us that life is nice in Canberra by taking us to a wonderful Indian restaurant for dinner and showing us Canberra at night from the – nearly closed – Telstra tower. Well ...
Brisbane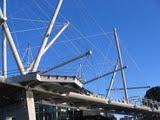 We left Canberra on July 1st to go to Brisbane. We met with some friends and I had a talk at the University of Queensland on July 2nd. The trip from Brisbane onward was organized by Umfulana Tours. Since it was our first time in Australia and there was no time to organize things by ourselves I had looked for some trustworthy tourist office to do the job. Brinka Hellack from Umfulana did a great job on this. A nice itinerarie with room for extensions and a top selection of B&Bs.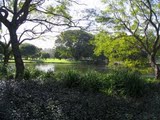 After arrival in Brisbane we picked-up our rental car and tried to find our first accommodation. We missed the highway exit ... and had some opportunity to get used to left-hand driving and right-steered cars. Anyhow we managed to arrive at Ansley B&B. Our hostess Gena welcomed us with a tea and gave us an introduction to Brisbane and how to get around. Not too difficult after all: buy a day ticket for the bus which also includes free use of the City Cat ferries and enjoy your day. So – after a breakfast with my friends with Liz Armstrong and Hoylen Sue – we spend all leisure time that was left on July 2nd on the river and on the very beautiful campus of the University of Queensland.
Hervey Bay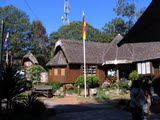 July 3rd and finally on vacation. The plan is to drive from Brisbane to Hervey Bay. Gina served us an excellent breakfast with tropical fruits from her garden. We left the Bruce Highway at Beerburrum and followed the Glass House Mountains Rd. We missed the Landsborrough Maleny Rd in Landsborrough ... and ended up on the Bruce Highway again at Meridan Plains. We took the next exit at Palmview and headed west. Via Palmwoods we finally arrived in Montville – a strange place with a lot of touristic facilities: restaurants, souvenir shops – not only related to this place.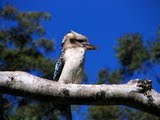 Heading north we reached the Kondalilla National Park where we spend an hour. It was our first impressive contact with the Australian rain forest and a few animals like the laughing kookaburra.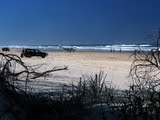 We continued north till Mapleton where we turned right and went east and reached the Sunshine Coast near Maroochydore. We drove north along the coast till Noosa Heads. It was late afternoon when we arrived there and we still had to go half of the way to Hervey Bay. So we decided to go back to the Bruce Highway till Maryborough and turn east there for Hervey bay.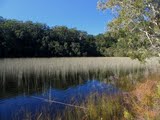 In Hervey Bay we stayed at Alexander Lakeside a truly luxurious B&B. After more than two weeks travelling we where happy that our hostess Sharon allowed us to use her washing machine ("I don't need it tonight").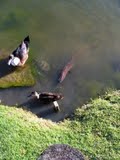 Another excellent breakfast was the starter for our tour to Fraser Island, the biggest sand compilation on earth as our guide Henning claimed. Henning turned out to be a German from Hannover and 4 of the 7 participants of the tour where also Germans. It was a very instructive tour – though we didn't meet any dingos. Part of the game: the drivers had to cook a barbecue for his clients. Next morning we said good bye to Sharon, John, and the animals in her lakeside garden continued north to Rockhampton.
Rockhampton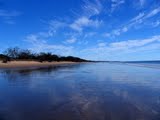 July 5th on the way to Rockhampton. We did neither feel attracted by an airshow in Bundaberg nor by the Bundaberg Rum production. Nevertheless we left the Bruce Highway at Childers and headed towards Bundaberg. A lot of sugar cane fields all over the place ... and they accompanied us north till Cairns. From Bundaberg we continued to Moore Park Beach to have a break. When we reached the Bruce Highway again at Gin Gin we saw aur first kangaroo. A victim of the trafic on the Highway. It was the first out of some ten that we saw during our trip killed by the traffic. Various birds of prey took advantage of the free lunches.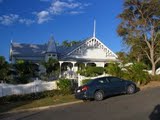 In Rockhampton we resided at Athelstane House B&B, a wooden house of the 19th century. Our hosts Marion and Stanley served us a welcome tea and showed us their amazing home while lots of Rainbow Lorikeets played in the garden.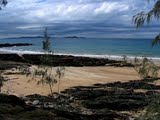 Rockhapton offered us quite a few things to do. We decided to start with a visit on Mount Archer. While we drove along the switchback we saw two kangaroos – alive. They remained the only two that we met in the wild..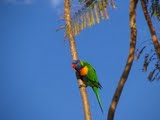 From Mount Archer we continued to Emu Park. There is a beach, a little museum and – a few kilometers away – a crocodile farm. We took a guided tour at the crocodile farm and learned about salt water and fresh water crocodiles – and how to avoid to get devoured by the salties. In the museum we saw a lot of things that would otherwise be considered as garbage – but we also received a hands on technical tour through 100 years of railway technology. We took a self guided walk along the beach – one of the attractions a singing ship to the honour of James Cook. But frankly: what impressed us most was the beauty of the scenery.
Rockhampton is known as the Beef Capital of Australia – and since neither Edith nor me are vegetarians we decided to take advantage of this. The Bush Inn Bar and Grill in the Criterion Hotel is where you get a good steak at a very reasonable price.
Airlie Beach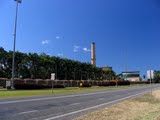 Airlie Beach is 500km north of Rockhampton ... sugar cane fields, sugar cane fields and sugar cane fields followed by sugar cane fields. Given that you are not allowed to drive faster than 100km/h it requires quite some time on the road.
Nevertheless we decided to take a detour via the Eungella National Park, a rain forest area where you can see platypus – if the platypus decide to show-up.
Our accommodation in Airlie Beach was another stylish place and – just to mention – another breakfast you can dream of: Whitsunday Moorings B&B. 40m above the beach with a gorgeous view over the sea. We went out for dinner in the city. Airlie Beach is a tourist destination with a focus on backpackers. We ended up in a big open air place "Beaches Backpackers" that advertised live music. The food was OK. The music was by Matt Angell – solo. This guy knows how to play the guitar how to sing. Beside his own songs he played excellent covers from Clapton to Young as well as some blues classics.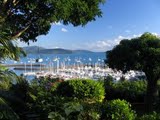 The next day we started one of the most spectacular excursions of our stay to Whitsunday Island and Hayman Island with Whitehaven Express. But when the boat was supposed to depart the captain call a repairman since the boat refused to move. 30min later it was fixed and we could start.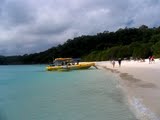 The tour had three stops: a short bush walk to Hill Inlet with a great view, Whitehaven Beach with incredibly fine sand (and a barbecue arranged by the boat crew) and snorkeling or glass bottom boating in Mantaray Bay. Unfortunately the sea was pretty rough that day. So the water was a bit turbid. Nevertheless one could see impressive corals and quite some fishes.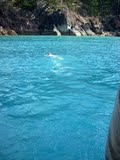 Back from Mantaray Bay the sea was really rough and caused some seasickness for some. Beside the rough sea it was our captain who got the boat jumping over the sea: full speed ahead was obviously the only acceptable way to move once he left the coast.
Townsville, Mission Beach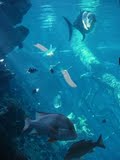 Mission Beach was a one night stop on our way to Cairns. Hundreds of kilometers of sugar cane fields again.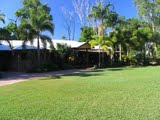 We decided to have a break in Townsville to visit the aquarium there. It was sort of an opportunity to see some of the things that we could not see at Manatray Bay – and to learn and better understand the ecological issues with coral bleaching due to the climate change or other influences.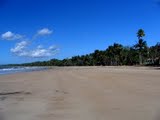 We arrived at the Hibiscus Lodge – another wonderful place in the eveining. Our hosts Adrienne and Bob showed us our room ("the honeymoon suite") and we kind of immediately walked out to find some food. The first restaurant (Blarney's By The Beach) we found had a Caribean flair: removable walls, next to a djungle garden, mild temperatures, a mosquito once and a while ... We noticed we had really arrived in the tropics.
Via Tablelands to Cairns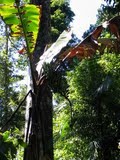 Taking advantage of the fact that we had only 150km to go to Cairns we chose to drive through Atherton Tablelands. Our first stop was a few Kilometers west of Palmerston near North Johnstone River. A nice trail leads down towards the river through a dense rain forest.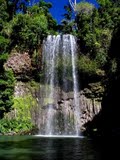 We continued to Millaa Millaa and followed the Waterfall Circuit with Zillie Falls, Ellinjaa Falls and the Millaa Millaa Falls. Millaa Millaa Falls is the most spectacular and popular one. From Millaa Millaa we continued via Malanda for lunch and to look out for some tree kangaroos – without success. We went on via Mareeba to Kuranda.
Kuranda seems to be a daytime-only village mainly consiting of a few parks, shops and restaurants. When we arrived at 17:00 it was sort of closed. We arrived there from Tablelands by car. The usual way to go there is from Cairns: either by the famous Kuranda Railway & Scenic Train or by the Skyrail Rainforest Cableway. The last train back to Cairns departs from Kuranda at 15:30 and the Skyrail operates till 17:15. And for either way: the journey is the reward. We took a short walk through the village and along the nice Barron River and went on to Cairns.
We left Kuranda and took the winding road down to Cairns. Our accomodation was located in the North of Cairns so we didn't need to go through the City. A really steep drive lead us up to Kookas B&B where our hostess Marlies showed us our room and severed us a welcome drink. Marlies is from Switzerland and many of her guests are German, Austrian or Swiss. We then took a walk to probably the only restaurant in walking distance: "The Naked Nut Restaurant" which turned out to be a nice place with excellent food.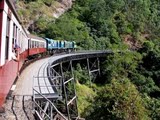 For the other day we made – with some advice from Marlies – the following plan: Kuranda Railway to Kuranda, back using Skyrail over the rain forest and a visit at Tjapukai Aboriginal Cultural Park.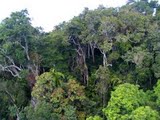 We entered the train in Freshwater Station. The slow travel to Kuranda was great experience underpinned by information about the architectural and historical highlights of this remarkable train.
After another walk through Kuranda and along the Barron River we entered the Skyrail to fly back to Cairns over the rainforest. To see the rainforest from above is also a great experience.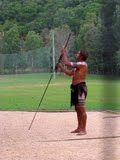 Right next to the valley station of the Skyrail the Tjapukai Aboriginal Cultural Park is located. It is an exhibition of Aboriginal culture and art accomponied by artistic performances. The ~8 artists are professional entertainers. All over the day they provide shows (Dance Theatre, Creation Theatre, and History Theatre), demonstrations (Didgeridoo Demonstration and Bush Foods & Medicine Demonstration) and exercises (Spear & Boomerang Throwing). And they are not shy to use modern technology to entertain and educate their audience.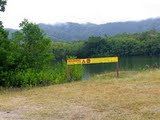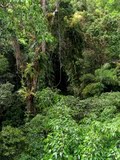 On our last day in Cairns (Jul 12th) we went another 100km north to visit the Daintree and Cape Tribulation National Parks. Daintree NP claims to be the oldest tropical rain forest on earth – meaning many species in the park exists for millions of years with little change of their primitive characteristics. We drove along the north Cairns beaches via Mossman up to the ferry across Daintree River. We stopped at Alexandra Lookout with a spectecular view over the Daintree River estuary to the Coral Sea.
We had our first rain in the rain forest (normally it rains in summer) and went to the Daintree Discovery Center. This is definitely the place to go if one wants to get a close and concrete introduction to the rain forest. Excellent educational material and an audio giude provide the information.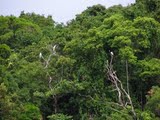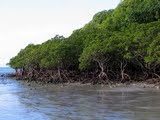 Sort of center of the Center is the Canopy Tower: it is 23m high with 5 viewing platforms and guides through the different levels of the rain forest.
From the Daintree Discovery Center we continued north through the rain forest to cape tribulation. It provides nice views on the beach and the rain forest.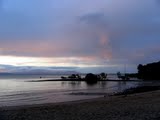 On our way back we stopped in Port Douglas. It provides huge contrast when you just come out of the rain forest. Packed with cars and people, huge restaurants, a cacophony of several music sources when you walk along the streets. We chose a Greek restaurant for dinner and found out it was rather a place to forget. We drove back to Kookas B&B to pack our bags and clear the car.
Uluru and Kata Tjuta

The next morning after we said good bye to Marlies we went to the airport, returned our car and took our plain to Ayers Rock to visit the Uluru-Kata Tjuta National Park. Given the very violative environment and half a million tourist every year it is obviously a challenge to find a good balance between ecology and tourism. So all accommodation is removed from the Park to a place 15km north named Yulura with an Airport another 5km north. With respect to accommodation all facilities (hotels and campground) are operated by Voyages Hotels and resorts. So one should not expect competition – neither in quality nor in price.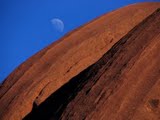 Our accommodation was part of our Umfulana Travel package (amazing: even they rely on a third party, DERTOUR, for the reservation). To get around we bought a 3 day ticket from Uluru Express – a small company with small buses – that allowed us to move around, enter the park and get some information from the drivers.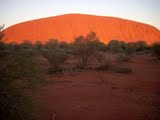 The amazing thing about the park is that – to protect the environment – you are only allowed to move on a few walks:
Base of Uluru (9km) around the rock
Liru Walk (2km) Uluru to Cultural Center
Dune Walk (1km) sunset viewing area.
Kuniya Walk and Mutitjulu Waterhole (1km) might be covered during the base walk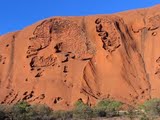 All walks can easily be done in one day.
The situation at Kata Tjuta is similar. Only two walks are provided here:
Walpa Gorge Walk (1.3km into a gorge and back)
Valley of the Winds Walk (7.4km very beautiful walk between Kata Tjuta rocks)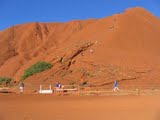 To climb or not to climb – a question? The Aborigines ask you to respect their quest not to climb Uluru – for religious reasons and for safety reasons(!). Nevertheless there is a path and poles with chains to the 350m elevation. And legions walk up and down screaming, sweating ... Even if it was not discouraged: there are other places in the world where climbing seems much more attractive.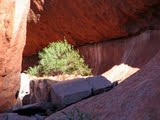 A bit more confusing appears the request not to take pictures in certain places. In some places any commercial photography is prohibited. What? This is a natural world heritage and people are asked not to take pictures? Sounded strange to me – even if I'm inclined to accept some religious background. Sometimes religious caveats perfectly match with business interests. Honi soit qui mal y pense!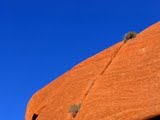 We arrived at Ayers Rock airport at noon and managed to find an Uluru Express bus to go to the Park, have a short walk and watch the sunset (the bus took us from the Base Walk to the Dune Walk for sunset). Uluru when you see it the first time is really huge and the lightshow at sunset is impressing.
When we came back to the resort we did not find a place in the restaurant. So we decided to take away our food (2 pizzas) and a bottle of wine and dine in our room (the nights are really cold out there in the desert in winter).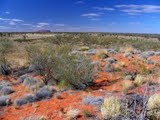 Early rise the next day. 6:30 to complement the sunset experience with a sunrise. Either I was not in the mood or it was to cold ... the sunrise paled in comparison to the sunset. We continued with the base walk. Pretty chilly in the shadow but as soon as we were in the sun it improved. This walk provides a close-up view to Uluru and the many facettes of its surface. We made the Base Walk including the Kuniya Walk and appended the Liru walk to the Cultural Center before the bus picked us up at noon.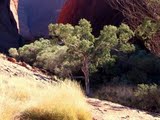 In the afternoon we took the bus to Kata Tjuta and did the Gorge Walk. As mentioned above this is rather a short walk into a gorge between two huge Kata Tjuta rocks. Since we hadn't planned an alternative – and the bus was ready to go there – we watched another Uluru sunset. We were a bit faster this day and managed to find a place in the restaurant (reservations only for groups).
The next day: no sunrise – rather sleep longer in the cozy room and have breakfast. Breakfast was out when we got up. We wanted to spend the morning at the Cultural Center and took a bus around 9. They have a cafe at the Cultural Center. Given all the ecological efforts it is amazing that they only use disposable dishes. We attended the exhibition, bought a few souvenirs looked took a walk around the Center and returned to the resort for another bus to Kata Tjuta.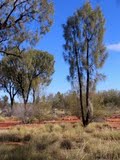 When we arrived at Kata Tjuta we saw a wild camel. A camel in the Australien desert? The ancestors of these animals where imported to help with the building of a transcontinental phone line. They where set free after the work was completed and refused to die in the wild.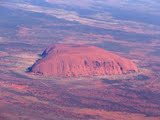 The walk through the Valley of the Winds was very beautiful. A varied landscape, a wonderful light and great views. And since it was our last evening we ended our time in the park with another Uluru sunset.
The next day after viewing a Kata Tjuta sunrise from the resort we had a low level breakfast at the top level hotel Sails in the Desert. Our flight back to Sydney was at noon. One day later we took our planes back home.